The Grosse Pointes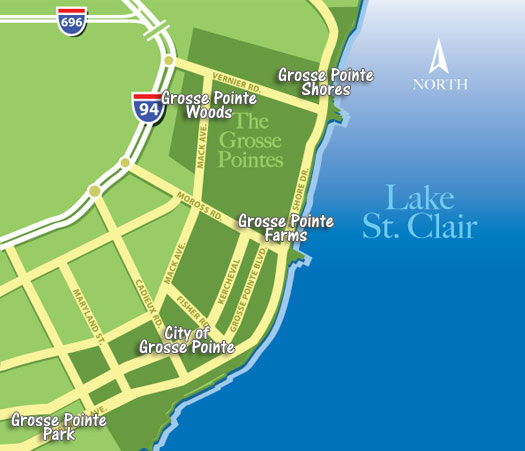 Click on a city for more information!
Grosse Pointe - A Brief History
In 1669, the Frenchman Adrien Joliet was one of the first to venture into Lake St. Clair, then an unnamed body of water. Robert Cavalier de la Salle aboard the vessel Griffin about ten years later on the Feast Day of Sainte Claire of Assisi sailed into our heart-shaped lake. It was his chaplain, Father Hennepin, who named the lake for that Saint. Soon thereafter, fur traders from the French Canadian areas arrived into the area. One of the first known commanders of the Fort Michilimackinac was Antoine Laumet de la Mothe Cadillac. This northern outpost made Cadillac a very prosperous man in the furn trade but he also created a bit of controversy with his Jesuit neighbors when he sold liquor to the Indians. Cadillac received permission from Louis XIV, the Sun King, to establish a fort in the lower Great Lakes. In 1701, Cadillac left Montreal, Canada with about 100 men and sailed through Lake St. Clair eventually establishing Fort Pontchartrain in a location just west of the current city of Detroit. Cadillac invited Indians to trade furs with his fort and encouraged the Indian tribes to settle near them. When Cadillac left in 1710, the fort had expanded its boundaries although there were no inhabitants in the marshland of Grosse Pointe. Indian uprisings, British invasions and the French habitants all contributed to the development of the Grosse Pointes. Small farms in long, narrow strips led from Lake St. Clair back for almost three miles in some areas. These "ribbon" farms later were developed as streets in the current physical layout of the Pointes. First occupants were farmers and trappers. Next, the summer visitors built homes to enjoy the blissful lake front. Then, with the advent of more sophisticated means of transportation, year-round homes were built starting in the early 1900's. More information about the history of Grosse Pointe may be found at the Grosse Pointe Historical Society website.