Waterfront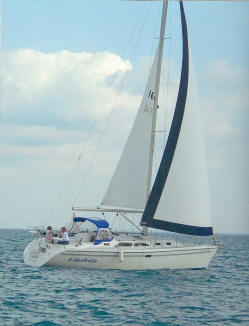 The Grosse Pointes offer one of the most picturesque waterfronts in the country. The entire eastern border of each of the five Grosse Pointes is Lake St. Clair, our international waterway. This lovely fresh water lake provides activities of all types and for all ages.
Yachting
Private marinas dot the shore in each of the Grosse Pointes. Each of the Grosse Pointes has a private park for residents only. These outstanding facilities offer marinas for boats of all sizes, both power and sail. There are also racks for small day sailboats, canoes and kayaks. While there are no public docks in the Grosse Pointes, there are private harbors that will make arrangements for you to arrive by boat if advance arrangements are made. If you are a member of a private club, the manager of your club may email or call the Grosse Pointe Yacht Club, the Grosse Pointe Club or Crescent Sail Club and ask if they extend reciprocal privileges to visiting mariners. It's worth the call! There are also non-private marinas that are just a short distance away. One of these includes the State of Michigan's only urban state park with a harbor, Milliken Park. Reservations for this harbor may be made online: [Click Here!] Other commercial harbors in the area include Jefferson Beach Marina and Miller Marina.
Swimming Pools
All of the residents' only parks have swimming pools for residents and their guests. They range in size from Olympic-sized to baby pools. There are no public pools in the Grosse Pointes.
Waterfront Drive
Want to enjoy some of the prettiest scenery in the country? Cruise down Lake Shore Drive or Windmill Pointe Drive and take a look at Lake St. Clair in the background. Most of Grosse Pointe Farms runs along the lake and it is a gorgeous drive. Since it is a residential area, the speed limit is only 35 miles per hour and "Sunday drivers" will be found every day of the week going much slower. Look for sailboats gliding by, kayakers, swimmers, international freighters and Canadian geese. Everyone loves Lake St. Clair!
Biking
There are plenty of reasons to ride your bike on the paved sidewalks along the lakefront. Bikers share the sidewalks with pedestrians but they all get along! They're there for the same reason… to enjoy the natural beauty of the Grosse Pointes. Pointers are working to get bike routes designated on certain streets throughout the community. That would be a fun thing!
Sail Getaway
The Grosse Pointes, located on the Eastern Shore of Lake St. Clair, boast five residents-only marinas within the City Parks. Each marina provides a wonderful ambiance within the park with unlimited views of the lake. There are also two private yacht clubs, as well. The private yacht clubs are the Grosse Pointe Yacht Club and Crescent Sail Club. The Grosse Pointe Yacht Club continues to be selected as the "Number One Yacht Club in North America". Crescent Sail sits in a strategic location in Grosse Pointe Farms and prides itself on its newly updated facility and its sailing program. Various overnight destinations may be reached in only a few hours, including international marinas. Nearby ports of call include one of the state of Michigan's only waterfront marina, Milliken Park. Docking facilities are also close to dining and entertainment districts. Two of the five Great Lakes, Lake Erie and Lake Huron can be accessed through the Detroit and St. Clair Rivers and, of course, Lake St. Clair.
Some may prefer just to sail out and feel the breeze. Many boaters spend the day anchoring out and swimming off the stern. Water temperatures in the summer are in the 70 degree range. Evenings offer light offshore winds which are ideal for reaching out and reaching in back into the harbor. The sunset in mid-summer is not until 10 pm! That's ideal for packing a picnic dinner and enjoying the carefree, fresh water venue. Marine services are also close by. The "Nautical Mile" is just to the North in St. Clair Shores (aka Boat City) and has additional services.
Weekday evenings have sail racing for all sized boats and skill levels, from main and jib to weekend Detroit River Yachting Association (DRYA) sponsored events. Don't forget the Bayview Yacht Club's Port Huron to Mackinac Island Race in July. Sailors are always looking for additional crew so try to sign on and ride on up. Truly an unforgettable experience.
The Grosse Pointe Power Squadron and the US Coast Guard Auxiliary have classes on boating safety and seamanship throughout the year to provide a maximum boating experience. So let's go sailing and have fun out there!